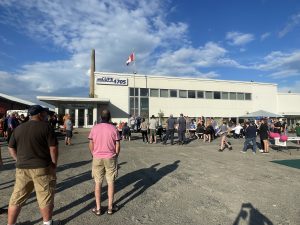 General Membership Meeting
10-October 20, 2022 AGENDA GM Meeting (1)
AGENDA
1. Regular Order of Business
2. Nominations/Election: Member Engagement Committee (2)
3. Nominations/Election: Communications Committee (2)
4. Nominations/Election: Young Worker Ad-Hoc Committee (5)
5. Motion for Women's Conference Nov. 28-Dec 1, 2022 (3 Delegates & 2 Alternates)
6. Trades Conference November 21-24, 2022 (4 Alternative)
7. Nominations/Election: The President, Vice-President, Recording Secretary, Secretary
Treasurer, Sergeant-At-Arms, and Trustees.
Register in advance for this meeting:
https://us02web.zoom.us/meeting/register/tZwpduutrj4rHtJR9I4fHeZKTF0A5iErdIJ8
To participate in this meeting or future meeting (including voting) you must be a member in
good standing. If you would like to participate in the upcoming election, this is the last
meeting to register to be a member in good standing.
After registering, you will receive a confirmation email containing information about joining the
meeting.